The struggle against stubborn blackheads can seem never-ending. According to the American Academy of Dermatology, 50 million Americans per year suffer from acne, an inflammatory skin condition that affects adults as well as teens. Out of the many different types of acne, blackheads are one of the most common and difficult to control. But there things you can do, however, to begin with, it helps to know exactly what causes blackheads.
What Causes Blackheads?
Blackheads occur when the pores become blocked and are no longer able to expel oil, dead skin cells, and
bacteria which is a natural process that happens every day. When pores become blocked, a plug of dead skin cells and oil forms. As this waxy plug rises to the surface of the skin, it turns black upon exposure to oxygen — and a blackhead is formed.
Moreover, all this dirt and oil is a hotspot for other bacteria — namely, P. acnes bacteria — which can lead to inflammatory and cystic acne.
The good news? You can beat blackheads and prevent them from re-occurring with a simple skincare routine.
Natural Treatments for Blackheads
Blackhead removal tool
If you're no stranger to blackheads, an extractor tool should be a part of your skincare arsenal. They're surprisingly easy to use and much more hygienic than just using your fingers. Blackhead removal tools get rid of blackheads literally by squeezing them out from under the skin. When using your tool, don't be overzealous; a gentle touch is all that is required! Lightly press the tool down around the blackhead. Always be careful not to apply too much pressure on the skin, which causes inflammation and worsens acne. Once the blockage is removed, sweep a cotton wool ball dipped in alcohol over the extraction area to make sure it stays clean.
Sale
Steam
Steaming to remove blackheads is an effective way of detoxing the skin. It works by softening the skin's surface and opening pores, so that any trapped bacteria, debris, and dead skin cells can be removed easily. Steaming just once or twice a week can help ensure clear skin and keep blackheads at bay. Before steaming, always begin by cleansing your face to remove any lingering bacteria and pat dry with a clean towel. If you skip this step and leave any bacteria on the skin, your pores will become even more clogged once the steam opens them up — which causes more acne.
Steaming your face is a simple process: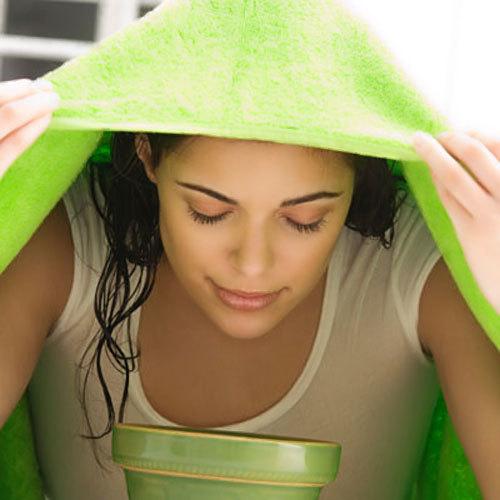 Take a large bowl and fill it with steaming water
Hold your face over the bowl, about 4 inches away
Cover your head and the bowl with a large towel
Relax as the steam reaches your face and opens up your pores
Stay in place for about ten minutes for best results. Bear in mind, you can inch nearer the bowl as you become more accustomed to the temperature. Be careful not to move too close; you may irritate or even burn your skin.
Follow up with a facial scrub to remove the bacteria trapped within the now-open pores.
Exfoliation
Regular exfoliation gets rid of dead skin cells trapped on the surface of the skin, which is often the cause of clogged pores and acne. Take a little facial scrub between your fingers and gently rub it over your face in small, gentle, circular motions. After exfoliating, rinse your face and pat dry with a clean towel. Your complexion will be clear and rejuvenated.
There's no need to exfoliate every day – doing so may actually damage the skin. Just once a week is enough, or two to three times a week if you have particularly oily skin. There's plenty of effective natural face scrubs on the market, but you can easily make one yourself if you want to keep things super simple. Mix together equal parts sugar and coconut oil — organic when possible — and add in a few drops of your favorite essential oil, et voilà!
Sale
Pore Strips
One of the easiest ways to remove blackheads is by using a pore strip. These are not only easy to use and effective remove most blackhead, they are less painful than other extraction methods and do not damage the skin or inflame the blackhead.
Sale
Biore Deep Cleansing Pore Strips for Nose & Face
Works like a magnet to unclog pores and remove weeks' worth of dirt buildup in just 10...
Locks onto and lifts out deep down dirt, oil, and blackheads so you get the deepest clean
Nose strips are designed just for the nose, while face strips can be used anywhere clogged...
In 1998, Bioré was the first company to create and launch this unique and endlessly fascinating blackhead removal system. Now there are dozens of pore strip products on the market, each with their own unique method and benefits – some are infused with healing ingredients while others have a 2 or 3 step process to remove blackheads and heal the skin. InStyle recently reviewed the 6 Most Satisfying Pore Strips and provided handy links for where to buy them.
Toner
Finish up your skincare routine with a good toner. This step helps soothe the skin, reduce inflammation, and minimize the appearance of pores. If you're looking for something all-natural, try spritzing your face lightly with lemon juice. Citrus tightens pores as well as promotes clean and clear skin because of its antibacterial properties. Rosewater is another good option and will restore moisture back to your face after steaming; dab some over the skin with a cotton ball and let dry before applying moisturizer.
Additional Reading and Resources:
American Academy of Dermatology: Acne
Huffington Post: 9 Awesome Facts About Lemons You Should Know
Using Steam to Remove Blackheads