Are skin toners an essential part of a skin care regimen? For years 'cleanse, tone and moisturize' was the standard three-step beauty routine.  In more recent times though, many believe that the use of toners is not necessary, proving your cleansing routine is thorough.
The fact is, the use of toners is an important step in maintaining healthy skin – a step that is highly under-rated and overlooked today.  That's because, no matter how well you cleanse, there are traces of dirt, grime, make-up, natural oils or heavy skin products such as sunscreen that remain behind. Toners remove all remaining traces of these and prepare the skin for the next step in your skincare routine (acne treatment, moisturizer and/or anti-aging products).
The right toner will not only remove all traces of make-up and oils, toners nourish the skin and restore alkalinity, leaving it feeling more conditioned, smoother, softer and healthy.
What do Toners Do?
In the past, toners were primarily designed to tighten pores and control oil. They contained a high volume of alcohol which made them good toners for this type of skin.  We now know that over-drying the skin with high alcohol-based products is not the answer to controlling oily skin. Today, toners are formulated with a plethora of conditioning and beneficial ingredients designed for all skin types and conditions. The key is finding the best facial toner for you.
In general, a quality toner can:
Restore pH balance: This of often due to the alkaline qualities of soap products we use.  Most cleansers and soaps contain surfactants – a necessary ingredient to break down the oils and debris on the skin. But soap that is too alkaline can also break down the natural acid in the skin, causing dryness and disrupting the natural balance in the skin. Toners can quickly restore this balance.
Minimize the look of enlarged pores. Enlarged pores are the result of blocked pores caused by oiliness. The first step in minimizing the look of enlarged pores is to regularly exfoliate and deep clean pores. The next step is to select a toner that contains salicylic acid and/or glycolic acid to effectively remove excess residue and dead skin cells to unblock pores. Keeping pores free of debris will prevent them from enlarging, and the right toner can help keep them clear and minimize their appearance.
Protect the skin: Most toners tighten and close pores after cleansing. This helps prevent environmental impurities from penetrating the skin's barrier after application and they can effectively remove minerals and chlorine found in tap water used to clean the skin.
Moisturize the skin. The best facial toners for mature skin and those with lifeless skin should contain hydrating ingredients like hyaluronic acid to lock moisture in and prevent dehydration of skin. Other soothing and anti-inflammatory ingredients are helpful to clam sensitive and irritated skin. These toners should not contain alcohol or strong acids.
Refresh and tone the skin. Toners are a quick way to refresh the skin on hot days or while simply on the go. There are many spritz toners available for a quick pick-me-up on a hot day. Refreshing or toning the skin is particularly important (say after working out) if the goal is to keep the skin clear of oils and debris until you can thoroughly cleanse.
What Toner is Best for your Skin Type
It would be easy to lump toners into two categories – toners for this type or acne-prone skin, and toners for normal to dry skin. But due to the renewed popularity and recognized benefits of toners, there is a toner for almost every skin type and condition.  These are some we like:
Best Toner for Oily Skin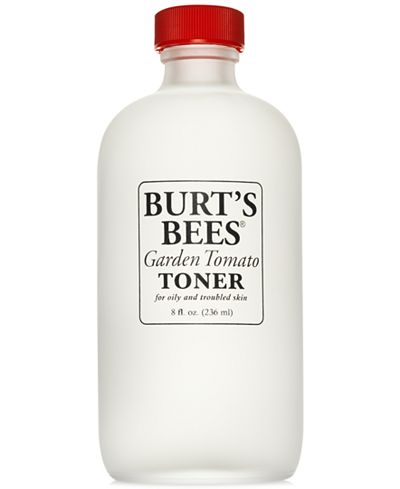 In general, those with oily or acne-prone skin should look for a toner formulated with the power to remove dirt and debris, cut through oil, and clear out blocked pores. This helps to minimize the formation of blackheads and prevent breakouts. For this type of skin, we like Burt's Bees Garden Tomato Toner. 
Tomatoes are naturally acidic and have purifying qualities that are good for oily and acne-prone skin. Tomatoes help balance the pH of your skin and are a powerful source of carotenoids to help fight free radicals that attack skin cells. This toner:
Removes traces of makeup, dirt, and oil
Tightens pores with tomato, cucumber and parsley extracts
Exfoliates the skin and keeps pores clear with the fruit acid complex of sugar cane, sugar maple and bilberry
Sensitive Skin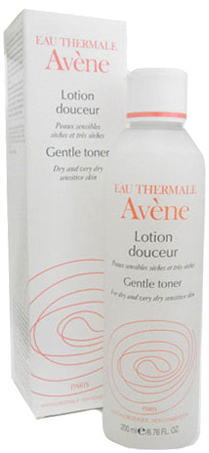 Those with sensitive skin should look for alcohol-free, water-based formulas with conditioning ingredients and antioxidants like niacinamide, cucumber and vitamin B5 to calm the skin, fight inflammation, hydrate and soothe. For those with sensitive skin we like Avene Gentle Toner. This toner:
Hydrates and protects delicate skin with natural silicates and thermal spring water
Relieves irritation and protects skin from damaging environmental attacks
Softens texture of the skin
Protects the skin barrier
Is dermatology tested; Soap-free; Oil-free; Hypoallergenic, Non-comedogenic, Soy-free; Paraben-free, Gluten-free
Best Toner for Normal to Dry Skin
For this skin type, selecting a toner that is alcohol-free is key. The goal for toning here is to remove traces of oil, traces of oil, grime and make-up left behind after cleansing. The best toner for this type of skin will leave the skin feeling clarified, nourished, and soft.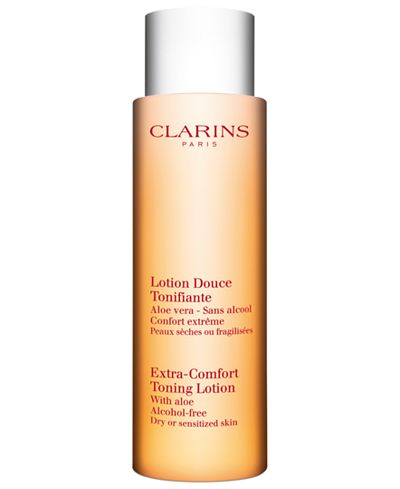 For this skin type, we like Clarins' Extra Comforting Toning Lotion. This toner is alcohol-free, it enriches with conditioning extracts like aloe vera, marshmallow, known for their healing, moisturizing and soothing properties.  This toner:
Does not dry the skin
Leaves skin clean and soft
Improves texture of the skin
Maintains moisture balance of the skin
Combination Skin
The key to toning combination skin is to find a toner that will balance the skin's pH while removing traces of oil, debris and make-up.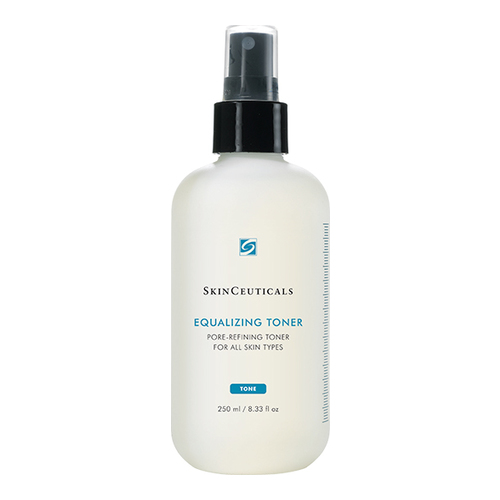 Treating combination skin can be difficult since you are trying to address two opposing conditions; an oily T-zone on the one hand, and dry or dull skin around the eyes and on the cheeks. The ideal toner for combination skin should be able to address acne-prone areas of the skin while moisturizing and conditioning the dry, stressed areas. For that, we like SkinCeuticals' Equalizing Toner. This toner:
Evens out combination and oily areas
Reduces redness caused by breakouts
Exfoliates dead skin cells
Promotes circulation to improve tone and texture of the skin
Best Toner for Mature Skin
For those trying to combat the signs of aging, the use of a quality toner formulated with antioxidants and restorative ingredients can boost the benefit of moisturizers, wrinkle-reducers and serums by improving the absorption of these

products.
We like RESIST Advanced Replenishing Toner for its hydrating and anti-aging qualities. This toner:
Hydrates and restores the skin
Protects against environmental damage
Visibly reduces appearance of wrinkles
Increases firmness
Improves uneven skin tone