How do you nourish dry skin in the Winter when outdoor conditions and indoor heat remove all the moisture from the air, and your skin?
It's a fact that the dry winter air and chilling wind outside, lower humidity levels, making skin dry and uncomfortable. While indoor heat, whether by fire or artificial heat sources, exacerbates dry winter skin conditions leaving it tight, flaking or even cracked.
There are ways to counteract these effects and turn dry skin into healthy skin – key among them is to nourish dry skin by eating (and sometimes applying) these beneficial foods that replenish the natural oils that keep skin healthy and supple:
FISH
Some fish is high in Omega-3 fatty acid. This is an essential fat that helps keep the skin's natural oil barrier healthy and hydrated. Since the human body does not make its own Omega-3 fatty acid, it must be consumed through diet.
Cold water fish like salmon, herring, tuna, mackerel and anchovies contain high amounts of Omega-3 fatty acids and should be incorporated into your diet (at least 4 oz. of fish twice a week).
While eating fish is the best way to improve your intake of Omega-3, you can supplement your fish intake with a high-quality fish oil supplement – healthy adults can take 250-500 mg combined EPA and DHA each day.
Nuts and Seeds
Nuts and seeds provide another way to protect the skin from the drying effects of the cold season – these deliver high doses of Vitamin E and Omega-3.
Walnuts and flaxseed are especially rich in Omega-3 fatty acids. Almonds, sunflower seeds and pumpkin seeds are packed with Vitamin E to help protect the skin from drying.
Brazil nuts are especially beneficial to the skin – they contain super doses of selenium. The minerals, vitamins, and high levels of selenium in Brazil nuts help protect the moisture barrier and prevent dry skin.
All nuts are high in calories and should be consumed in measured quantities. A small handful each day should provide the daily requirement for maintaining healthy skin.
Oysters
Oysters may seem like an odd recommendation for nourishing and healing dry skin. But oysters contain high levels of Zinc which plays an important role in the growth and function of the skin cell and is particularly helpful in healing damaged skin.
Oysters are also rich in selenium. Just 3.5 ounces of oysters contains 91% of the RDA for selenium – an important mineral for the maintenance of healthy skin.
For those who do not eat oysters try adding beans (like Chickpeas), beef or lamb and turkey to increase your Zinc intake.
Vegetables
There are a number of vegetables that pack a powerful punch when it comes to protecting and nourishing the skin. The best among these are:
Dark green leafy vegetables – these provide the richest source of vitamins and minerals necessary for healthy skin.  Minerals and vitamins in dark, leafy veggies includes iron, Omega-4 fatty acids and Vitamins A, B, and E – all of which protect skin from environmental damage and improve overall immune system. Snack on Kale for healthy skin. Just one cup of raw Kale delivers and entire days-worth of Vitamin C and Vitamin A for healthy, moisturized skin.
Sweet potatoes are a perfect winter veg for combating dry skin. These are packed with nutrients and high levels of Vitamin A and Beta-Carotene both of which strengthen the skin's barrier to maintain healthy, moisturized skin.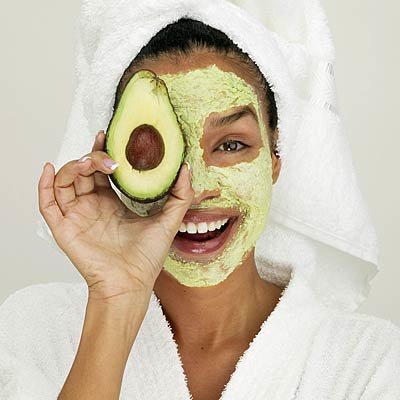 Avocados – while these are not considered a vegetable they do deliver loads of benefits to the skin. However, avocados are loaded with calories, so we recommend you eat them sparingly.  Rather, use the super fruit to make a moisture-boosting mask to treat and improve dry skin. Simply mash half a ripe avocado and apply it directly to clean, dry skin. Leave on for 10 minutes and remove to reveal healthy, conditioned skin. For extra hydration, add a teaspoon of honey to the mixture – this help trap moisture in the skin.
Water Dense Fruit
Juicy fruits can be hard to find in the winter – watermelons and summer berries are in scarce supply. However, one fruit group that delivers a punch, and is super-beneficial to nourishing and protecting our skin, is Citrus. Oranges, grapefruits, lemons and limes are packed with Vitamin C to plump up collagen, erase damage, and improve moisture levels.
Yogurt
Eating yoghurt is good for you – it's packed full of protein, calcium, digestive enzymes, Vitamin D and probiotics to deliver healthy benefits to the body.
However, yoghurt, when used as a face mask nourishes the skin, leaving it rejuvenated, hydrated and conditioned. That's because yogurt contains lactic acid to dissolve dead skin cells and soften dry skin.
Experts agree, a simple home-made yogurt mask helps condition and soften dull, dry skin.
To prevent dry, dull skin, apply a yogurt mask two or three times a week. Simply blend plain yogurt to clean, dry skin. Rinse off after 10 minutes and moisturize as usual. For best results select a thick yogurt with live cultures. You will be amazed how revived your dry, stressed skin will look after this basic yogurt treatment.
More Resources and Reading:
Want Healthy Skin? Feed it Well
The Ultimate Guide to Taking Care of Dry Skin
About the Author:
Ann Hawkins, Senior Content Marketing Specialist – Health and Fitness 
Ann is a mom of two children who loves to pen down thoughts on topics like food, health and nutrition. She loves to explore new places. She pleases her taste buds with yummy food and is a great fan of  TESCO Food Love Stories